Steve Brunson began his professional diving career as a United States Navy Deep Sea Diver in 1982. He was fortunate to participate in numerous experimental underwater programs experiencing depths as great as 350 feet. While stationed in Pearl Harbor, Hawaii with MDSU1 (Mobile Diving and Salvage Unit 1) he was welding a sonar dome underwater. For this particular job he was required to not only photograph the weld beforehand, but also the finished welds and repairs. Unfortunately, Steve got a little carried away with the camera and took a few shots of his fellow divers, which got him in a little trouble when they were developed. This was the first time that Steve had the opportunity to photograph underwater. It was at this point that Steve had discovered the true passion of his life, Underwater Photography. The very next day Steve ordered his first camera from The Navy Overseas Catalog, a Nikonos 4 and Strobe.

To this day Steve has the very same passion for Underwater Photography he had that very first day taking his very first underwater photographs. It is this passion that he takes with him all over the world photographing some of the most unique and beautiful animals on the planet. Some of his most recent trips have taken him to places like Guadalupe Island off of Baja California, to photograph Great White Sharks, Carcaradon carcarias, and to the Neptune Islands in Australia, Palau, Yap, Fiji, Bonaire, and Roatan. Steve Brunson has also done extensive underwater photography in the islands of Hawaii, Tahiti, Socorro, San Benidicto, Channel Islands, Cozumel, Cayman Islands, Florida Keys, the Bahamas and the Sea of Cortez.

Steve is currently based in San Diego, California making his living as a Professional Underwater Photographer. He also participates in numerous Underwater Photographic competitions, many of which have international competition. As recently as this year Steve has placed in the top three in almost every competition he has ever entered. Steve has won numerous Award Winners at San Diego's own Quigg's Bar and Grill, the PCUPC - Pacific Coast Underwater Photographic Championship, the SDUPS - San Diego Underwater Photographic Society. PADI - Professional Association of Diving Instructors, Project AWARE Foundation, and Sport Diver Magazine in this year of 2003. Many of his images can be seen in magazines, books, posters, and various educational materials, as well as, Zephyr Images International stock photography catalogs.

Steve has gained popularity, world wide, as an Underwater Photographer with his ability to be A Photographer of Light and Dramatic Sunbursts. You will be able to see this as you browse through his Underwater Galleries

When it comes to camera equipment, Steve uses some of the best available. Some of his favorites are his Nikon 8008 in a Tussey housing with two Ikelite 150 strobes also his Nikonos 5 with 15mm lens and two Ikelite 150 strobes. Both of these cameras have the ability to take 1 to 1 macro with 105mm lenses, to 95ļ wide angle with a 20mm lens which allows Steve immense versatility in the Underwater environment.

Below are a few comments from people Steve has been fortunate enough to deal with on both Professional and Personal Levels:

"Steveís underwater shots are some of the very best I have seen anywhere in the world, bar none" - Daniel W. Fuller, Fisheries biologist, Inter-American Tropical Tuna Commission.

"Some of the best dolphin and seal pictures I have seen, he really seems to capture the energy of the animals" - Donna Mattson, Contract Marine Biologist, National Marine Fisheries Service.
In December 2002, Steve received an e-mail from Dr. Robert D. Rubin, PH.D. a biology instructor at Santa Rosa Jr. College. It stated that Steve Brunson had photographed a unidentified Manta Ray, print number MR013, and Dr. Robert Rubin asked Steve what name he would like to give to the new Manta Ray. Steve immediately said "Champ!" One of his best friends and love of twelve marvelous years. Later Karey Kumli sent Steve Photo-identification Guide: Manta birostris about all of the Manta Rays that were being identified, including Champ, and how hey were being distinguished from other Manta Rays. Champ was a Yellow Labrador/Golden Retriever mix that Steve had rescued from the dog pound in July, 1991. They were inseparable from the first day Steve brought him home. Champ loved the water just like Steve and would swim any chance he had. Steve named the Manta Ray in Memory of "Champ" that will always live in Steve's Heart.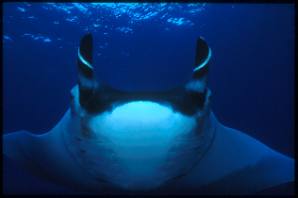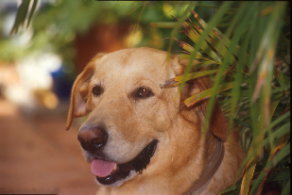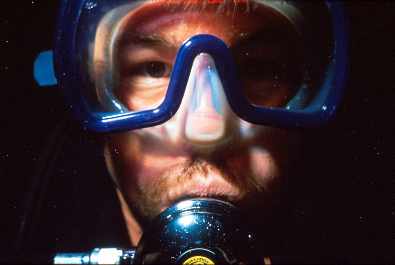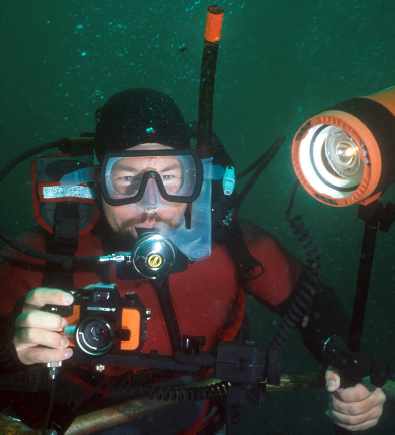 ---
Click here to see Teeth, Claws and Jaws, a 5 minute video by Steve Brunson about the inhabitants and predators of the seas.
This film was featured in the 2006 37th annual San Diego Underwater Film Festival
by the San Diego Underwater Photographic Society at the Scripps Institute of Oceanography Theater.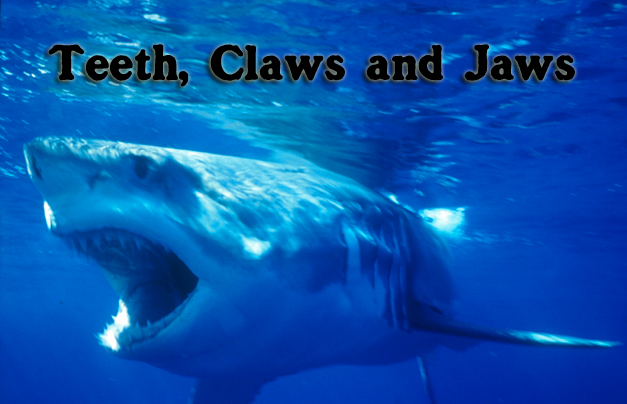 ---



A School Report from a young Friend:



A Person Who Greatly Influenced My Life: Steve Brunson
By Spencer Longhofer



The first time I met Steve Brunson I was eight years old. During high school he was a friend of my dadís, and we had gone down to his house in San Diego to visit him. Steveís about 6'2íí and 245 pounds of solid muscle. Normally, when I was young, I was very shy, but he is the most outgoing person I know and we were soon good friends. I also met his wife Josie, who turned out to be a very good cook. Another thing about Steve is the fact that he is an animal person. Two dogs and nine cats constantly roam around the house. Another hobby of his is boxing; in the navy he became the champion of the entire armed forces. Of all the things I noticed about Steve it was his favorite hobby and his job that caught my attention.

Steve works as an underwater photographer. He travels around the world and takes photos underwater. All of his pictures are kept on slide carousels and he showed my dad and me hundreds of them. We were shown pictures of sharks, dolphins, turtles, sea lions, stingrays, and many assorted fish. During his travels he has been to places like Fiji, Hawaii, the Bahamas, Florida, Belize, the Honduran island of Roatan, and just about any other tropical place you can think of. His latest trip was to Australia to go Great White Shark diving on South Padre Island. On his nine-day trip with famous Great White Shark expedition leader Rodney Fox, he saw no sharks for the first six days. Then on the seventh day a twelve-foot shark showed up. After that there were always sharks around the boat, including another twelve footer, one fourteen footer and even a rare eighteen footer. I was sorry to have to leave Steveís house after a few days, but have returned four times since then and plan on more.

After meeting Steve I immediately wanted to go scuba diving. When I found out that I had to be twelve years old to become certified, I was not very happy. It turned out I had to wait four long years, but finally, on my twelfth birthday, I received a present from my dad in an envelope. Inside the envelope my dad had written, "This paper is good for one scuba diving class and one trip to San Diego." During the class I spent two days learning to dive safely and two days diving in Monterey Bay. I couldnít wait to go to San Diego in the summer, but I very disappointed when my dad told me we werenít going on the trip after all. Soon I was happy again, though, because he told me we were going to Roatan instead. Roatan is an island ninety miles off the Honduran coast with some of the best diving in the world. My dad and I spent a week there going on three to four dives every day. The two of us even went down one hundred thirty feet during one dive. Steve was there and we all had a great time. We were very sorry to see it end, but that would not be the only dive trip I ever went on. In the last two years Iíve been to Florida and the Bahamas. Also, I hope to go to Australia and Fiji someday too. Personally, Iíve been greatly influenced by Steve Brunson, and I hope to be friends with him for many years to come.

- Spencer Longhofer, Student, Loomis, California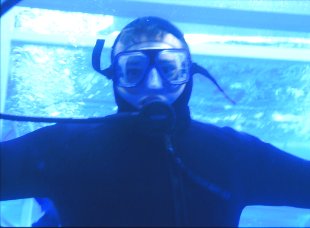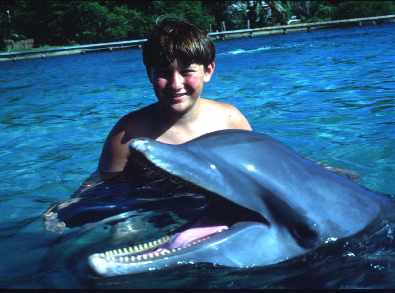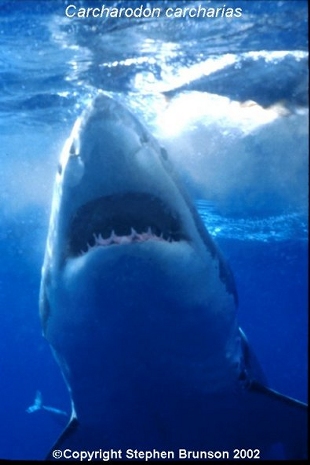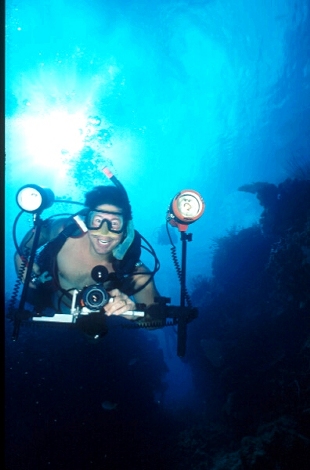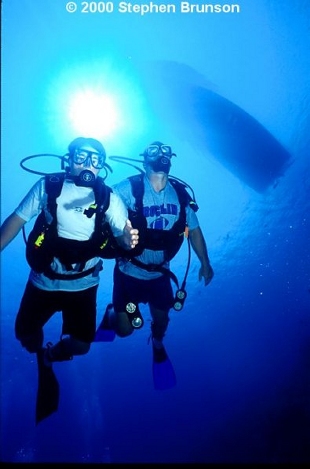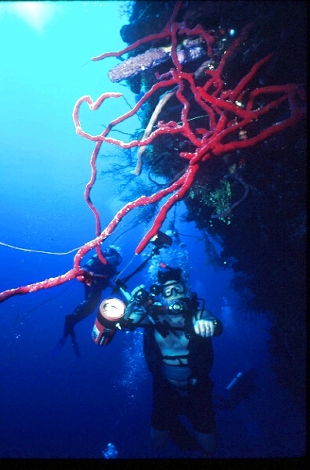 ---
The following was written by Ben Stein and recited by him on CBS Sunday Morning Commentary.
Just in case you don't recognise Ben Stein by name - he's the one that does all those commercials in that dull monotone voice!!!!
He was also speech writer for President Nixon. If they know of him at all, many folks think Ben Stein is just a quirky actor/comedian who talks in a monotone.
He's also a very intelligent attorney who knows how to put ideas and words together in such a way as to sway juries and make people think clearly.

~~~~~~~~~~~~~~~~~~~~~~~~~~~~~~~~~~
Something not to laugh about.

Herewith at this happy time of year, a few confessions from my beating heart: I have no freaking clue who Nick and Jessica are. I see them on the cover of People and Us constantly when I am buying my dog biscuits and kitty litter. I often ask the checkers at the grocery stores. They never know who Nick and Jessica are either. Who are they? Will it change my life if I know who they are and why they have broken up? Why are they so important?

I don't know who Lindsay Lohan is either, and I do not care at all about Tom Cruise's wife.

Am I going to be called before a Senate committee and asked if I am a subversive? Maybe, but I just have no clue who Nick and Jessica are.

If this is what it means to be no longer young. It's not so bad.

Next confession:
I am a Jew, and every single one of my ancestors was Jewish. And it does not bother me even a little bit when people call those beautiful lit up, bejeweled trees Christmas trees. I don't feel threatened. I don' t feel discriminated against. That's what they are: Christmas trees.

It doesn't bother me a bit when people say, "Merry Christmas" to me. I don't think they are slighting me or getting ready to put me in a ghetto. In fact, I kind of like it. It shows that we are all brothers and sisters celebrating this happy time of year. It doesn't bother me at all that there is a manger scene on display at a key intersection near my beach house in Malibu. If people want a creche, it's just as fine with me as is the Menorah a few hundred yards away.

I don't like getting pushed around for being a Jew, and I don't think Christians like getting pushed around for being Christians. I think people who believe in God are sick and tired of getting pushed around, period. I have no idea where the concept came from that America is an explicitly atheist country. I can't find it in the Constitution, and I don't like it being shoved down my throat.

Or maybe I can put it another way: where did the idea come from that we should worship Nick and Jessica and we aren't allowed to worship God as we understand Him?

I guess that's a sign that I'm getting old, too.

But there are a lot of us who are wondering where Nick and Jessica came from and where the America we knew went to.

In light of the many jokes! we send to one another for a laugh, this is a little different: This is not intended to be a joke; it's not funny, it's intended to get you thinking.

Billy Graham's daughter was interviewed on the Early Show and Jane Clayson asked her "How could God let something like this Happen?" (regarding Katrina)

Anne Graham gave an extremely profound and insightful response. She said, "I believe God is deeply saddened by this, just as we are, but for years we've been telling God to get out of our schools, to get out of our government and to get out of our lives.

And being the gentleman He is, I believe He has calmly backed out. How can we expect God to give us His blessing and His protection if we demand He leave us alone?"

In light of recent events...terrorists attack, school shootings, etc. I think it started when Madeleine Murray O'Hare (she was murdered, her body found recently) complained she didn't want prayer in our schools, and we said OK.

Then someone said you better not read the Bible in school. The Bible says thou shalt not kill, thou shalt not steal, and love your neighbor as yourself. And we said OK.

Then Dr. Benjamin Spock said we shouldn't spank our children when they misbehave because their little personalities would be warped and we might damage their self-esteem (Dr. Spock's son committed suicide). We said an expert should know what he's talking about and we said OK.

Now we're asking ourselves why our children have no conscience, why they don't know right from wrong,
and why it doesn't bother them to kill strangers, their classmates, and themselves.

Probably, if we think about it long and hard enough, we can figure it out. I think it has a great deal to do with "WE REAP WHAT WE SOW."

Funny how simple it is for people to trash God and then wonder why the world's going to hell.

Funny how we believe what the newspapers say, but question what the Bible says.

Funny how you can send 'jokes' through e-mail and they spread like wildfire but when you start sending messages regarding the Lord,
people think twice about sharing.

Funny how lewd, crude, vulgar and obscene articles pass freely through cyberspace, but public discussion of God is suppressed in the school and workplace.

Are you laughing?

Funny how when you forward this message, you will not send it to many on your address list because you're not sure what they believe, or what they will think of you for sending it.

Funny how we can be more worried about what other people think of us than what God thinks of us.
Pass it on if you think it has merit. If not then just discard it... no one will know you did. But, if you discard this thought process, don't sit back and complain about what bad shape the world is in.
Ben Stein